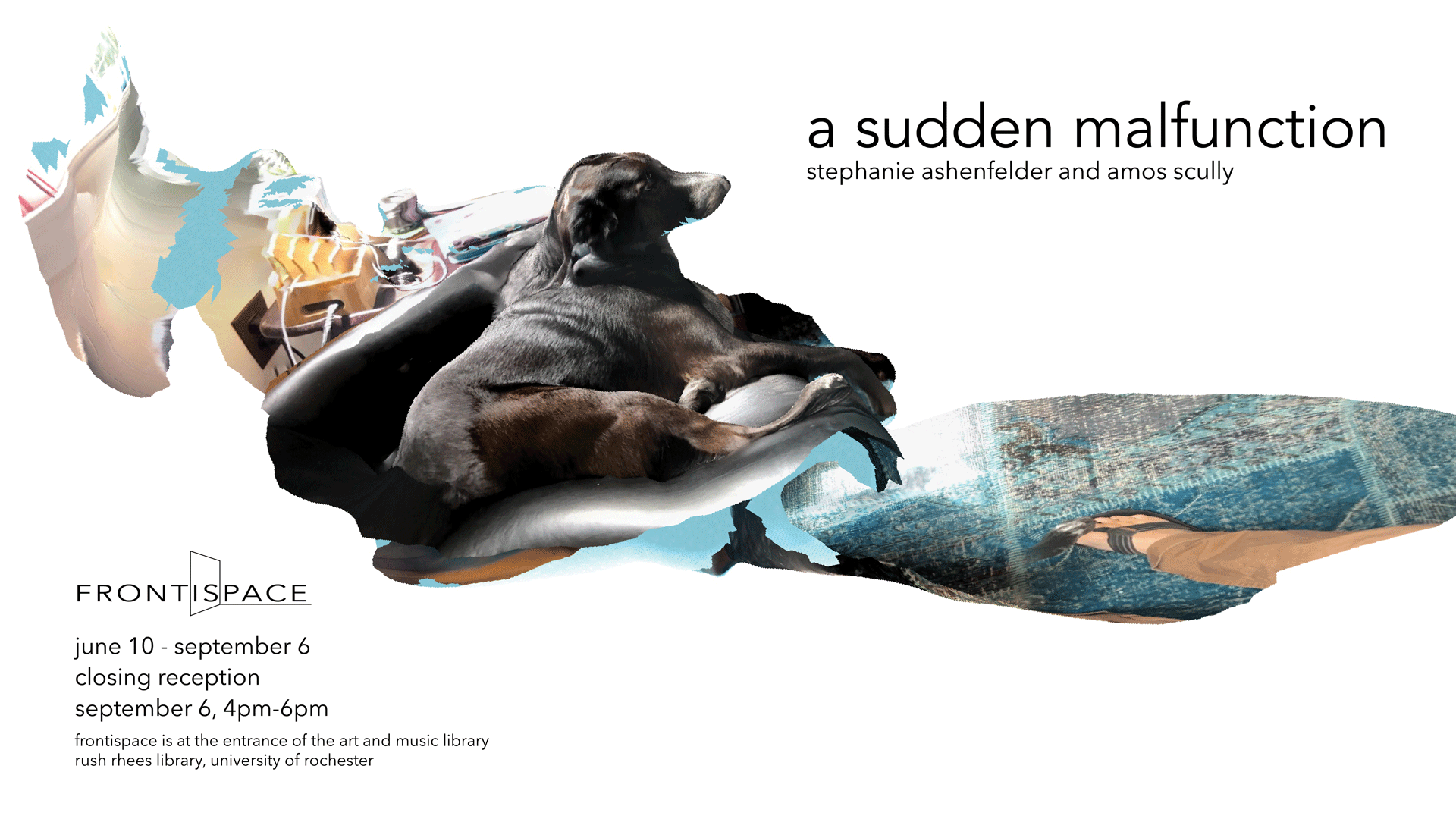 Frontispace is pleased to announce an exhibition of work by local artists Stephanie Ashenfelder and Amos Scully. The husband and wife team are the inaugural participants in the Frontispace Residency, a new initiative of the University of Rochester Art and Art History Department to support the development of new work by regional artists. The exhibition, titled A Sudden Malfunction, concludes their summer residency and marks the first event in the newly renamed Frontispace, formerly the Gallery at the Art and Music Library.
Ashenfelder and Scully have developed the work in A Sudden Malfunction while in residence on the UR campus throughout the summer. The artists explain:
"We began this residency knowing we wanted to explore our human urge to affiliate with nonhuman animals. Our jumping-off point became the animals that we literally own: a horse, a dog, and our rooster and hens. We exist as ill-equipped care takers, fraught with worry at the awesome responsibility and aware of our flawed relationships with these nonhumans. We recognize these relationships are plagued with misunderstandings and mistakes—human to nonhuman glitches. Our work captures these sudden, usually temporary malfunctions through photogrammetry and confronts you with them in three dimensions."
Stephanie Ashenfelder's digital and artistic scholarship take form in a variety of socially conscious interdisciplinary projects. Through multiple modes of production, Ashenfelder's artistic practice investigates the intersection where progress meets failure. Her work originates from a place where glitches, malfunction, and happenstance instigate profound consequence. Ashenfelder teaches courses in studio art and digital media at the University of Rochester, where she works as the interim director of Digital Media Studies and the program manager in the Department of Art and Art History.
Amos Scully is an artist, designer, and educator creating works of dimensional form in a combination of abstract and representational shapes, surfaces, and materials. Working in contemporary installation and large-scale objects, he has exhibited his output nationally. Scully also regularly publishes papers on design education at conferences in Europe. He has been an Associate Professor teaching Industrial Design at Rochester Institute of Technology in Rochester, New York, since 2003.